It's inspiration time and today I have a fun back to school project to share with you. I couldn't resist picking up this composition book in the back to school bargains and turning it into an altered journal. I thought the beautiful black spine would compliment Graciellie Design's
Christmas Carols Digital Paper Pack
beautifully. I cropped the images using Microsoft Paint, to exclude the Christmas portions. I overlaid the amazing lily image from the
Words of Hope Set
onto the text and printed. I highlighted the image by shading with colored pencils around it.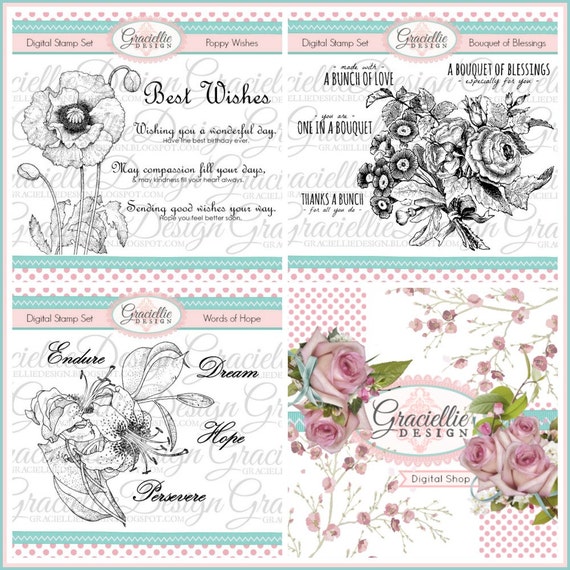 This month's stamps are tremendous and I have really enjoyed working with the floral images, particularly when converting them into chalkboard art. Now onto our giveaway winner...
Biggest congratulations to one of my amazing followers, the fabulously creative Tee of The Altered Paper!!!
Visit Gracie's Blog and click the contact page at the top to claim your prize.
My biggest tip with this post (do see my previous posts for all of my other tips) is to crop the portion of an image and size it perfectly before printing. It will save you a ton of ink and a ton of cutting! :) If you love to decoupage, digital papers will be your new best friend. The ability to print in color onto thin, but large paper is tremendous. I feel certain that I will use some of this paper as giftwrap this holiday season. Make sure to visit
Graciellie Design on Etsy
to view all of the fabulous paper collections.

I'm sharing my composition book with: